Hand-held Data Downloader (HHU)
---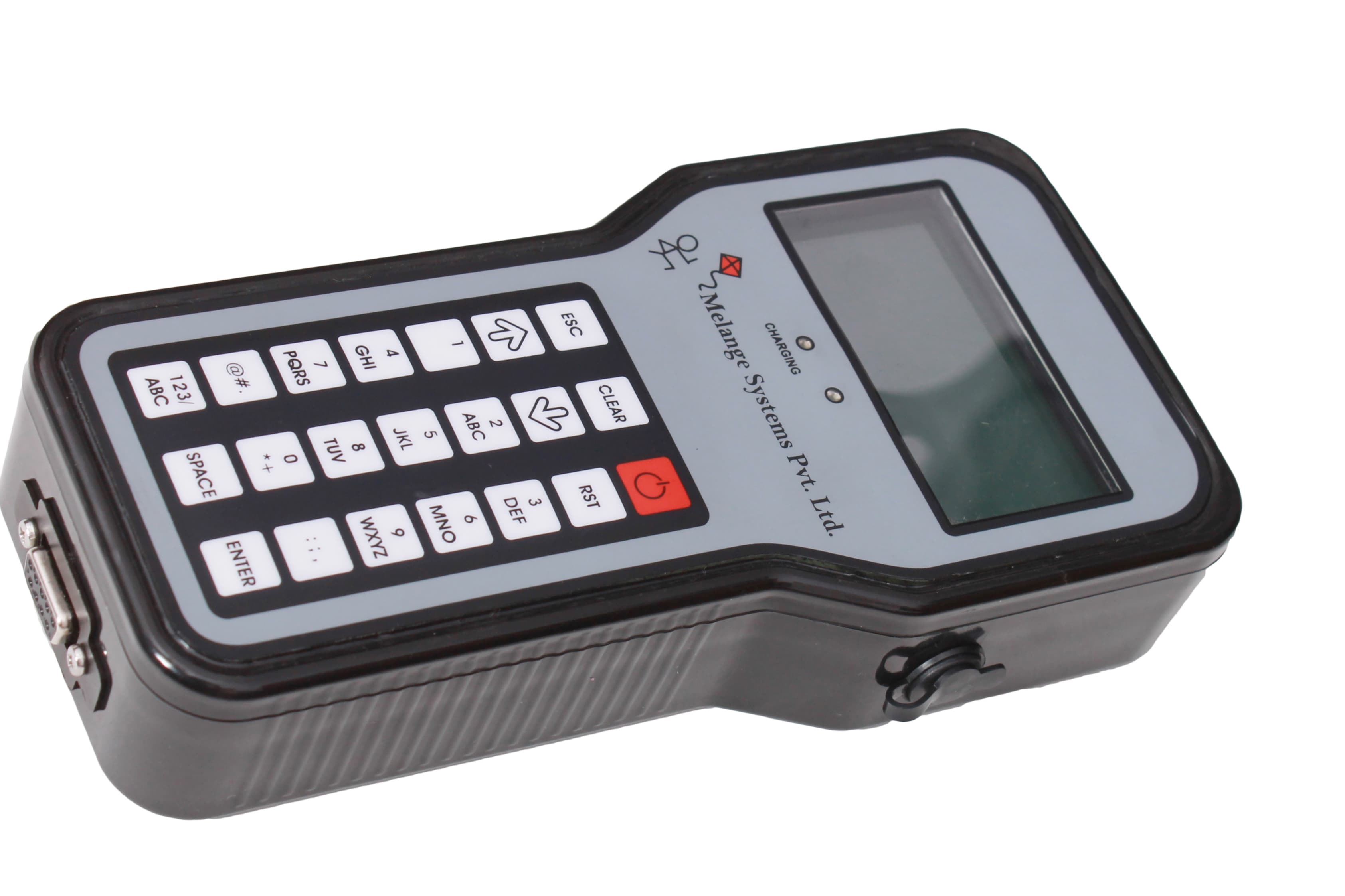 Melange Systems Hand-held Data Downloader (RF HHU) in Smart Metering context is a portable battery operated wireless instrument used for commissioning, downloading and transferring smart metering data to the utility storage PCs. This unit has a powerful processor, LCD, Keypad, Battery, Memory Card/USB and an RF module in-built.

Processor
Processor : ARM™ Cortex™ - M4 Processor Operates up to 72 MHz
OS Storage : On Board 256 KB Flash
Main Memory (RAM) : 64KB
Operating System : MQX RTOS Ver 3.8/4.1

Communication Interfaces
RS232 On DB9 Connector supports up to 115200 baud
LPRF

On Board Tarang P20 / UT20 Module
20dBm, 2.4 GHz / 865-867MHz Operation
ZigBee / 6LoWPAN Network Stack
External Antenna Connector

IR module
Common optical cord port

User Memory
SD Card Memory

Push type Micro SD Card Connector
Supports cards with capacities up to 32 GB


User Interface

Display : LCD screen, 128x64 dots, 70 x 40 mm (View area)
Keypad : 21 Key high-quality membrane keypad

Power

Battery : 7.4V/2600mAh
Battery charger : 8.6V/500mA, Light weight charger, Quick charging (6 Hours)

Others
RTC : On board high-precision RTC with battery (Coincell).
Enclosure : High Impact ABS
Weight : 500 gm
Dimension : 190.38mm (L) x 88.7mm (W) x 41.5mm (H)
Status Indications
Supports IR Module,ZigBee or 6LoWPAN RF Mesh networks.
Capability to interface with energy meters from different manufacturers.
Provision to check the instantaneous energy metering parameters.
Auto commissioning capability with intelligent network creation.
Up to 8 Hours of battery backup with continuous operation.
Supports up to 8 GB secondary storage with standard RS232 On DB9 to download the data.
































For more information, Please contact Melange Systems.